720 Stiles Road
Cartersville, GA 30120
Leslie Baird, DVM:

Dr. Baird graduated from Louisiana State University School of Veterinary Medicine in 1990. She's practiced in Texas, Arkansas, Florida and finally settled in Georgia. Dr. Baird owned another small practice in town for 5 years, sold it, and then decided to start Euharlee Animal Clinic in the spring of 2008. She has been practicing in Cartersville since 1997. Dr. Baird is a member of the Veterinary Information Network, a 24 hour online association of over 24,000 veterinarians and vet specialists from around the world. She is also a member of GVMA and AVMA. She is the proud owner of a black lab, a boxer mix (who is a princess) and 3 cats. She is mother to a son and daughter and has one grandson.
Mike Christopher, DVM: Dr. Mike attended Auburn University, where he earned his Bachelor of Science Degree in Animal and Dairy Science and, in 1981, his Doctorate of Veterinary Medicine. He has worked in Canton for numerous years and started working as a relief vet for EAC in 2013. He and his wife have 2 adult sons and a sweet Irish Setter.
Cori McMichael, Practice Manager: Cori graduated from Towson State University in 1997 with a BS degree in Biology. She worked as the Assistant Office Manager for the Humane Society of Cobb County for several years and moved to the Cartersville area in 1999. Cori has worked alongside Dr. Baird since 2000. Animal behavior and puppy obedience training has been a passion of hers for over 20 years. She is "mom" to her furry kids; 2 lab mixes and 2 cats. Cori and her husband (also a huge animal lover) are the proud parents of a soccer loving daughter.
Laura, Veterinary Technician: After living in Arizona for 10 years, Laura decided to leave the desert for greener scenery in Georgia. She was able to transfer her technician license to Georgia and moved to the Cartersville area in 2007. She has worked alongside Dr. Baird since then. She enjoys working with small animals, though giant breeds are her personal favorite. She and her husband are parents to: Rosie a Chihuahua, Herbie a Chihuahua mixBrodie a mix. Laura has two sons and one grandchild.
Kat, Veterinary Technician: Kat graduated from Berry College in 2001 with a BS in Animal Science. She became a registered veterinary technician in 2008. Kat had worked with Dr. Baird previously before joining the EAC team in 2009. Kat and her husband have a son and daughter along with a farm full of critters.
Leanne, Veterinary Technician: Leanne is originally from New Jersey where she grew up on a horse farm. She has worked in the veterinary field since 2010 while she attended Globe University, in Wisconsin. She graduated in 2012 with a degree as a Certified Veterinary Technician. Leanne joined EAC in 2017. She is married with 3 children, has two Labradors named Cash and Jake and a sweet and crazy cat named Ozzy. Her hobbies include horseback riding, hiking, reading and spending time with her family and friends.
​
Jennifer, Veterinary Assistant/Receptionist: Jennifer is a Cartersville native who has worked in the veterinary industry since 2008. She has a deep passion for all animals and offers not only her heart but also her compassion to her patients. Jennifer and her husband Michael, who is also a Cartersville native, have 7 children and 8 grandchildren they adore! They are also proud parents to both their maltese fur babies, Layla Mae and Jasper Joe.
Sarai, Client Services Coordinator/Veterinary Assistant: Sarai is a Georgia native who joined our team in June 2019. Prior to joining EAC, she worked in customer service for over 7 years. She finally decided to take her love for animals and turn it into a career. Sarai is fluent in Spanish which has been extremely helpful with client communication. She shares her home with her daughter and her fiancé. They have 3 cats; Optimus, Bambi, Lilo, and 1dog named Bruno. She enjoys going to the beach, watching scary movies, and going on hikes with her family and dog.
Hallie, Receptionist: Hallie previously worked at the front desk for several medical practices and vet offices over the last few years. She is passionate about providing excellent service to our clients as well as their furbabies. Hallie and her husband recently relocated to Cartersville in the spring of 2022. They are proud pet parents to three cats and two dogs.
Destiny, Veterinary Assistant: Destiny is currently attending school to become a veterinary technician. She came to us in May 2022 looking to do some clinicals. After a few months, we decided she would be a great addition to our EAC family permanently! It has always been a dream of hers to work with animals, especially horses! Destiny is a Mom of 4 dogs Cindy, Whetta, Sasha, and Kuhjo!
Meghan, Veterinary Assistant/Reception: Meghan moved to Georgia and joined our team in September 2022. She is currently attending college to become a licensed Veterinary Technician. Born and raised in western New York, Meghan and her husband, Zak, wanted to get away from the snow and move to a warmer climate. Meghan shares her home with her husband Zak and their two fur babies Cash and Hank. She holds an interest in assisting with surgical procedures and preparation of hematology samples. Meghan enjoys the outdoors, art and photography.
Rebecca, Veterinary Assistant/Receptionist:
Ty, Veterinary Assistant:
Lauren, Veterinary Assistant/Receptionist:
Tina, Veterinary Assistant/Receptionist:
Dr. Spatz: Office cat/CAT scan Expert: Dr. Spatz came to us in the spring of 2013. Dr. Baird's son had found a litter of kittens. After finding homes for all of the other kittens, Dr. Spatz was the last one left. We obviously fell in love with him and decided that he could have a home here with us. He is Mr. Personality! He is extremely curious which sometimes gets him in to trouble. He is also VERY loving and affectionate. He has been known to "dress up" on holidays and special occasions and some of his costume pictures have even been published! Thankfully, he hasn't let his "celebrity status" go to his head.
Sir Eac: Office Cat/"Totally getting by life on his looks": In July 2021 a litter of very sick and malnourished kittens, were abandoned at our front door. We did our best to nurse them back to health and after finding loving homes for all of them that survived, Sir Eac never left. He and Dr. Spatz became instant friends, and we knew he had found his home with us. He is VERY sweet but VERY mischievous and is definitely not the sharpest knife in the drawer. He literally falls off of counters, tables, etc. on a daily basis! He is an absolute character and keeps all of us laughing.
Our Practice
Euharlee Animal Clinic is honored to have been chosen as one of the 2010 Five Star Veterinarians featured in Atlanta Magazine! Thank you to all of our wonderful clients that voted for us!
​
We pride ourselves on offering quality, full service veterinary care for your special family member in a friendly and loving environment. Our goal is to make your visit as enjoyable and relaxed as possible for both you and your pets. We are all passionate about animals and our love for them comes through in our outstanding customer service. We at Euharlee Animal Clinic want to thank you for your interest in our clinic and hope to be your vet of choice for all of your pet's needs!
Companion Therapy Laser®
We are pleased to announce the addition of the Companion Therapy Laser® to our practice! We are the first Veterinary practice in the region to use the Companion therapeutic laser. With the addition of the laser, pets will receive instant relief of pain, inflammation and swelling associated with soft tissue injuries, trauma, surgery and chronic everyday disorders. A relatively new branch of medicine, the Class IV laser delivers a large amount of light energy into the pet's body. When it interacts with damaged cells, healing is accelerated and pain is virtually eliminated. As our best friends age, recover from trauma or surgery, or simply need relief from everyday aches and pains, this advanced technology offers: Drug-Free, Surgery-Free, Pain-Free Relief. We have already seen some amazing results! Feel free to contact us if you have any questions or feel that this treatment may benefit your pet!
We are excited to now offer stress free ECGs on pets using the wireless ECG from Alivecor. This is amazing, new technology and we are thrilled with the results. To learn more about this device visit http://www.alivecorvet.com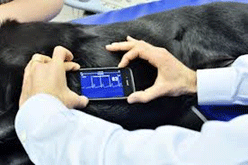 After hours emergencies are referred to:
​
​
3105 Parkbrooke Circle
Woodstock, GA 30189
(770) 591-9500
​
​
Northwest GA Veterinary Emergency Center
111 John Maddox Drive
Rome, GA 30165
(706) 204-8425
​
​
455 Abernathy Road
Atlanta, GA 30328
(404) 459-0903
​
​
​